We Congratulate our latest Gippstar winners………
The May Junior Gippstar Award Winner is Molly Cargill of Traralgon for her achievements in Swimming.  Molly competed at the Gippsland Swimming Championships in March where she competed in 12 events and medalled in 11 events, 5 gold, 5 silver and 1 bronze.  Molly competed in 9 events for the Victorian State Championships making 7 finals and won silver in the 100m Fly and bronze in the 50m Free.  In April Molly qualified to swim in six events at the 2021 Australian Age National Swimming Championships on the Gold Coast and for the season Molly has broken eight Gippsland records.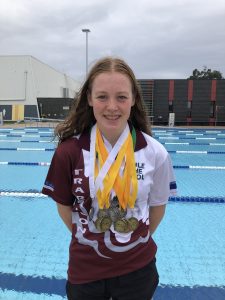 The May Open Gippstar Award Winner is Alex Vuillermin of Morwell for her achievements in her sport of Rowing.   Alex recently competed at the NSW state rowing championships. Alex and her partner won gold in the PR3 women's pair, breaking their National Record. Alex followed this up with a Gold in the PR3 Women's Pair at the National Rowing Championships.