The Gippsland Sports Academy would usually have had our Annual Awards evening in May, however this was not to be. Instead on Wednesday 4th of November The Annual Awards night was held via Zoom.
On Wednesday 4th of November, the Gippsland Sports Academy held their Annual Awards night via Zoom. It was a great opportunity to celebrate the achievements of our athletes.
There were four major awards presented this year.
The Phil Shelley Award for service to the Gippsland Sports Academy and sport in Gippsland.  This was awarded to Brian Ford (from Traralgon).
Brian coached for GSA this season after a year on the sidelines.
Brian happily took on the role of the Development Squad Coach this season, which was key in helping to create a new platform for our GSA athletes.
Creating this new Squad in the Academy's swimming program, helped create a new framework which successfully allowed two levels of training among the National hopefuls, and National swimmers alike.
When Brian was asked if he would help to develop this second tier of training he did not hesitate, and offered his coaching and leadership where it was needed most.
Brian has represented the Gippsland Sports Academy since its inception, and he has developed athletes across all levels of swimming ranging from Junior Gippsland Level swimmers and Country level swimmers, through to National and Olympic level athletes.
The David Drane Award for encouragement was won by Jordan Johnston (From Eastwood).
Jordan was a vital part to the GSA Tennis make up. Jordan is a leader. People gravitated towards him, followed and listened to him, which I found strange because Jordan sits about the middle of the pack talent and result based.
Jordan has a lot of other strengths that makes him Deserving of this award, his dedication to the GSA program and the sport of tennis is wonderful to witness first hand. He is in the same boat as a lot of people and having to travel fair distances to GSA trainings, but the difference is that there is no complaining from him or his parents.
Jordan is a wonderful assist to the GSA Tennis program and would be a worthy winner of The David Drane Award.
The Darrell White Award is in recognition of high achievement in a team orientated sport and was awarded to Lachlan Chester (from Lakes Entrance)
Lachlan shows an outstanding effort towards taking on coaching advice and technical feedback. His attendance and concentration is exactly what is required to be an athlete.
Lachlan coming from Lakes Entrance shows great commitment and dedication to his sport.
Lachlan was selected into the 2019 Volleyball Victoria indoor state team squad for U17 boys
The Tim Forsyth Award for Sporting Excellence was won by Elayna Pistrin (from Morwell).
Elayna is an incredibly hard working and dedicated young talented athlete.
Hard work and consistency have been Elayna's strengths ever since she was young.
Elayna was determined this season to achieve both the National times for the 100 and 200m disciplines in her Breaststroke. Even though these times are harder than ever, due to the fact that they are 17-21 years times. It didn't make any difference to Elayna.
Again Elayna set her mind and her planning to the task, and pushed her body to achieve!
Elayna achieved these milestones towards the back end of the season. No surprise to all who know how she trains and races. In doing so, Elayna also broke the 200m Breaststroke event record, at the Gippsland Championships, held by Previous National 100/200m silver medallist "Lily Collins".
Well done Elayna, you are a superstar person in the making, and a joy to coach.
Overall Award Winners:
Phil Shelley Award:
Pictured above, Brian Ford (Swimming)
David Drane Award: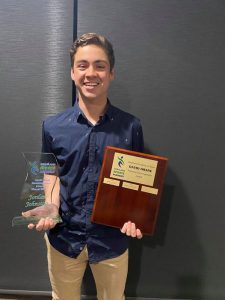 Pictured above, Jordan Johnston (Tennis)
Darrell White Award: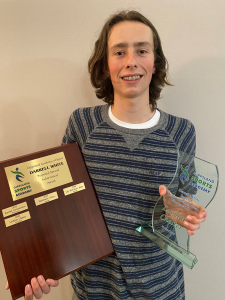 Pictured above, Lachlan Chester (Volleyball)
Tim Forsyth Award: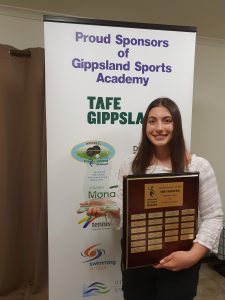 Pictured above Elayna Pistrin (swimming)