The August Junior Gippstar Award Winner is Lucas Furlan of Traralgon for his achievements in his sport of Clay Target Shooting. Lucas was the youngest competitor at the World Universal Trench Clay Target Championships in Italy as a 15yr old and played a very important role in the Australian Under 21 Team winning the Gold medal
Well done Lucas!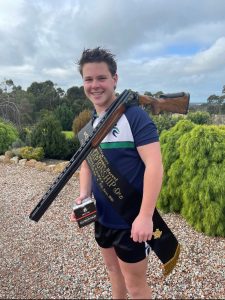 The August Open Gippstar Award Winner is Paige Barr of Eastwood for her achievements in her sport of Rowing.  Paige competed in the World Rowing Cup 2, Women's 8+ and won the Third Place Bronze Medal, she also completed in the World Rowing Cup 3, Women's 8+ and came in First Place taking home the Gold Medal. Paige was awarded the Sport Australia Hall of Fame Scholarship Tier 3. To top off Paige's achievements, she was selected for both under 23 Australian Rowing team and Senior Rowing Team.
Congratulations Paige!