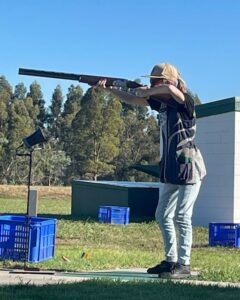 The January Junior Gippstar Award Winner is Kira Waldron of Korumburra for her achievements in her sport of Clay Target Shooting.  Kira competed in the Victorian State Skeet Championships at the Melbourne Gun Club and came away with the Gold in the women's division.
The January Open Gippstar Award Winner is Shane Downie of Traralgon for his achievements in Golf-Croquet. Shane participated in and won the Victorian Croquet Association (VCA) Golf-Croquet Open Singles Championship Range:-6.0 to 20.0 (GC) title by defeating runner-up Chas Quinn. This event was contested at the Victorian Croquet Centre – Cairnlee, Melbourne. Shane was also successful in winning the Singles event Range :- 1.0 to 4.0 (GC) held at the Sale Croquet Club from runner-up John Carr from Mornington.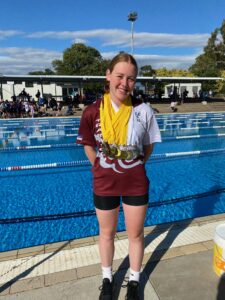 The February Junior Gippstar Award Winner is Molly Cargill of Traralgon for her achievements in Swimming.  The Gippsland Swimming Championships were held over 2 and a half days with both age and open events plus relays. Molly won 10 individual gold medals and one individual silver medal in the 17&O age events and open events. Molly swam in six relays and won 3 gold and 3 silver medals in the relays. Molly was also successful in breaking an event record that had been held since 2003 in the 50m backstroke.
The February Open Gippstar Award Winner is Ian Southall of Mirboo North for his achievements in the sport of Veterans Cricket. Ian has been selected to represent Australia in the Over 70's series of three One-Day Internationals against England. The matches will be played in Brisbane, Sydney and finally in Melbourne at the Caulfield Cricket Club. Ian plays for the Gippsland Goannas locally. Ian previously toured England in 2015 as a member of the Veterans Cricket Association Over 60's team.
Congratulations to all our winners!
Nominations for March/April will close on 6th May 2023
Please note that you can also nominate for the following annual categories:
– Team of the Year
– Club of the Year
– Special Achiever Award
– Gippsland Sporting Champion
These Annual awards can be nominated at any time during the current Gippstar year.
If you would like to recognize the sporting achievements of a Gippsland athlete or any of the above categories, nominations can be made online at the Gippsland Sports Academy website
https://www.sportgippsland.org.au/gippstar-award-nomination-forms/