The Gippsland Sports Academy held their Annual Awards night on the 3rd June 2022 at the Italian Australian Sporting Club, where 81 young Gippsland athletes received graduation certificates. It was a great opportunity to celebrate the achievements of our athletes after a difficult 12 months, and present trophies to the Award nominees
2021 was the 25th Year of operation for the Gippsland Sports Academy, it was celebrated by over 130 guests including Local members of Parliament Melina Bath and Russell Northe, Mayor of Latrobe City Kellie O'Callaghan and Deputy Mayor Dan Clancey, Mayor of Baw Baw Michaael Leaney and Councilor for South Gippsland John Schelling. Our guests also included our GSA Ambassadors Don Elgin and Tim Matthews and inaugural executive officer Phil Shelley. We commemorated the achievements of the graduating athletes and were inspired by this year's guest speaker, Don Elgin, Paralympian, and World Champion.
There were Five major awards presented this year.
The Phil Shelley Award for service to the Gippsland Sports Academy and sport in Gippsland.  This was awarded to Judi Buhagiar (Traralgon).
Judi's experiences in life and netball, have given her the tools she needs to and want to help develop netball players across all levels into strong, dedicated players with the skills they require to be the best they can be. There may be some yelling involved in getting them there, the yelling, shouting and repeating herself constantly is just because Judi wants you to succeed in your endeavor to be a domestic competition player or an elite netball player representing Australia one day. I feel that Judi strongly believes in our children and young people and that they can perform. She encourages them to go further than they think they can and have bright healthy futures in whatever they choose in life.
Judi's dedication and real commitment to Netball and all players involved is inspiring and Judi's energy is catching. I am coaching now and it's all thanks to Judi and her encouragement towards me and her belief in me, it's meant the world to me. I am coaching with GSA and Judi lets me coach one of her U13 Melita teams on Saturday mornings. Happens to be the team my son plays with.
Judi enjoys being involved in netball and it shows. This sport has always been a very important part of her existence. The life skills learned during the years with this sport is being passed onto the next generations and they don't even realise it yet. Teamwork, commitment, time management, communication, healthy living and social cues are just a few of those skills.
The David Drane Award for encouragement was won by Alexandra Luders (Traralgon).
The biggest improvement seen in Alexandra in 2021 is her mental state. Over the years she has struggled with confidence, got angry and frustrated and be really down on herself. But this year she' has seemed to have found who is she and where she sits in the group, she is so much more comfortable within herself, and that is the biggest improvement anyone can make.
With this improvement also saw improved results with a peaked Universal Tennis Ranking (UTR).
Alexandra is a leader in every sense of the word both how she talks and how she trains, plus she's a great person to have had in the program for so many years.
In 2021 Alexandra had a strong year on the court with her Universal Tennis ranking peaking late in the year with some wins over better opponents all whilst smashing 12 year.
This Lady is a star in every sense of the word. 
The Darrell White Award is in recognition of high achievement in a team orientated sport and was awarded to Mackenna Whiteside (Korumburra)
Regional Level:
Netball Victoria Talent Academy and League representative, this is the highest level available to the athletes of the netball program in this age group.
In only her first year in the program Mackenna quickly stamped her authority on the game.  Mackenna is a coach's dream, quietly taking on instruction but implementing them fiercely. Mackenna has an exceptional work ethic in her chosen sport of netball consistently working at the highest level possible leaving nothing out there.  Mackenna has an insatiable thirst for knowledge but is a strong problem solver as well, a sign of someone who can think on their feet, but what is different about Mackenna in this situation is her ability to always remain calm and do what is best for the team, such a mature mind for a young person.
Mackenna was talent identified in 2021 and now holds a position in the Netball Victoria Talent Academy, the next step in the pathway for athletes.
A quiet achiever with an exceptional attitude to learning, full of respect for those who support her, Mackenna is a proud role model, a genuine Investment in Excellence and a very worthy winner of the Darrell White Award.
  The Tim Forsyth Award for Sporting Excellence was won by Chelsea Beechey (Bairnsdale).
Selected in Shooting Australia ISSF Trap Pathway Squad 2022
Australian Open Women's Team in Skeet 2021
Chelsea continues to improve after several successful years at regional and State level.  Chelsea is now being rewarded for her dedication to the sport with National Team selections
 Rising Star Award is designed to assist identified athletes from within the Gippsland Sports Academy to prepare effectively as they look to take the next step in their sporting career.
This was awarded to Chelsea Beechey (Bairnsdale)
Overall Award Winners:
Phil Shelley Award:
Pictured above (L-R) Judi Buhagiar (Netball) with Phil Shelley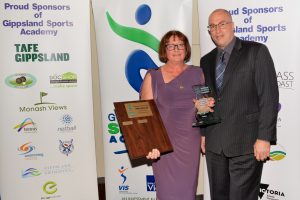 David Drane Award:
Pictured above (L-R) Alexandra Luders (Tennis) with Russell Northe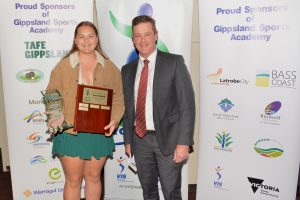 Darrell White Award: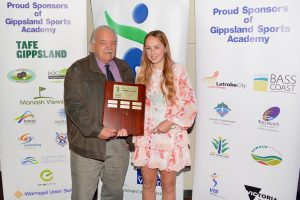 Pictured above (L-R) Darrell White with Mackenna Whiteside (Netball)
Tim Forsyth Award: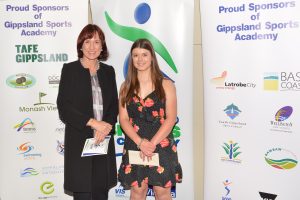 Pictured above (L-R) Melina Bath with Chelsea Beechey (Clay Target Shooting)
Rising Star Award: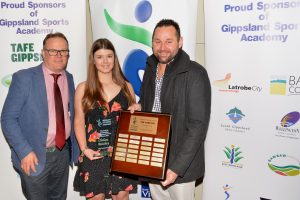 Pictured above (L-R) Tim Matthews with Chelsea Beechey (Clay Target Shooting) and Don Elgin